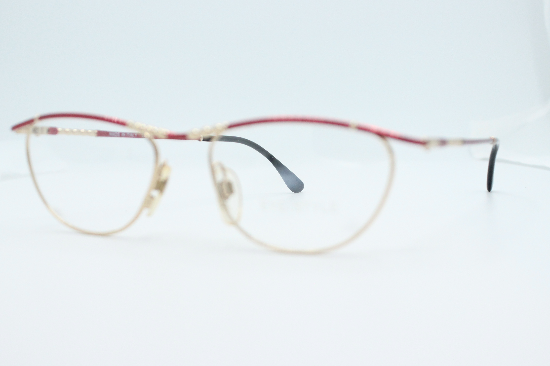 Eyestyle Italy ES005 Ladies Frame Gold Red Frame
---
Eyestyle Italy ES005 - Reading Glasses
Gold red color is the famous and most used color in the reading glass frames. Red and gold can be used in almost any design style, from contemporary to vintage. These reading glasses incorporate red and gold accents to create the ultimate look. Italy's most used color is gold. Here gold and red combinations give the frame an elegant look and make a difference from other eyeglass frames. Eyestyle Italy ES005 is one of the modern eyeglass frames used for both men and women. These reading glasses are exclusively for both of them to create a good look and ambiance. The lenses are made of plastic material which last a long life. They are commonly used for the purpose of reading and other types of uses. It is accessible in your eyes prescription and prescription lenses are also available for this type of readers by readersusa.com. 

Item specifics
● Brand: Eyestyle Italy
● Model: Eyestyle Italy ES005
● Type: Reading glasses
● Style: Modern
● Frame Color: Gold Red 
● Lens Material: Plastic
● Sexual orientation: Ladies
● Prescription Lenses Available
● Accessible in your prescription
Readersusa.com is the main seller of eyeglasses, readers and lenses in the US. They offer bifocal reading glasses, single vision reading glasses and progressive readers at readersusa.com. Reading glasses are the best eyeglasses mostly used for reading purposes. Reading glasses are available in different colors, patterns, shades, sizes and various uses. These reading glasses are useful for various needs and wants. Eyestyle Italy ES005 readers are the most convenient type of eyeglasses because they can be used with a variety of patterns and shades and are also available online at readersusa.com for more information on reading glasses. Eyestyle Italy readers are acceptable with any kinds of prescription lenses like progressive, readers with bifocals and single vis for both men and women, and they offer best readers online by keeping customers satisfied and selling quality reading glasses at reasonable price.