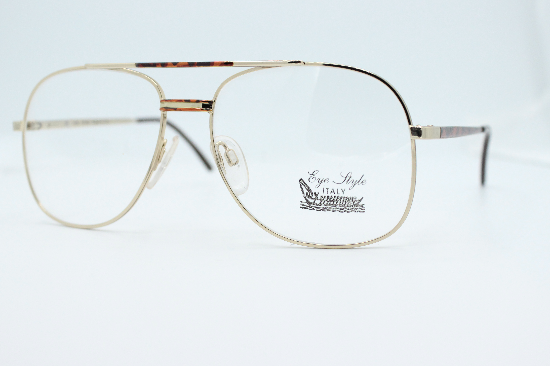 Eyestyle Italy ES016 Men's Frame Gold Color
---
Eyestyle Italy ES016 - Reading Glasses
ReadersUSA is the topmost online shopping for reading glasses.  Find out more about reading glasses and eyeglasses log on to readersusa.com. We believe that everyone should have access to high-quality, affordable eyeglasses. We created a wide range of frame styles for everyone, with prices starting with different price ranges from low to high, for single-vision, bifocals, trifocals and progressive type prescription glasses. Eyestyle Italy ES016 reading glasses are the most unique type of readers. Plastic materials are used in the manufacturing of reading glasses frames. They are colorful, stylish and good-looking reading glasses for both men and women. Anyway, reading glasses are mostly used for the purpose of going outside and reading purposes. All types of people can affordably use these types of readers with reasonable price ranges. These reading glasses are available in gold color frames. Installation of prescription lenses are the main advantages of these types of eyestyle Italy glasses. And these readers are available in your eyes prescription.

Item specifics
● Brand: Eyestyle Italy

● Model: Eyestyle Italy ES016
● Type: Reading glasses
● Style: Modern
● Frame Color: Gold
● Lens Material: Plastic
● Sexual orientation: Unisex
● Prescription Lenses Available
● Accessible in your prescription
Why limit yourself to just one pair when you can get blue-light glasses, prescription and non-prescription sunglasses, flexible kids' glasses, and safety glasses? Frames in every style, shape, and color imaginable to express all aspects of your personality. Using our online website readersusa.com, you can instantly see how your favorite frames will look - try on a pair of glasses online before you buy! After you place your order, your eyeglasses are handcrafted at our cutting-edge manufacturing facility and shipped directly to you. At readersusa, they offer more readers like bifocal prescription glasses, single vision and trifocal reading glasses. Progressive types of reading glasses are the main attractions in the readersusa.