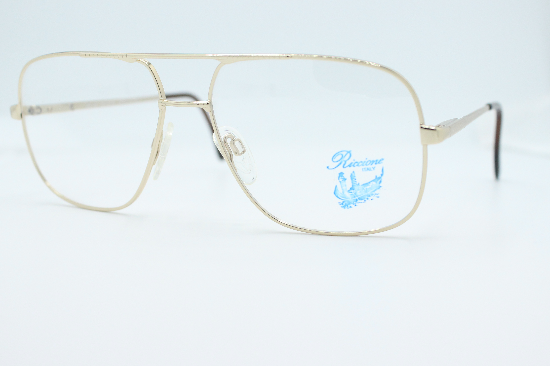 Ricconie Italy ES011 Men's Frame Gold
---
Ricconie Italy ES011 - Reading Glasses
Ricconie Italy ES011 are the most trusted reading glass brands in the US. Recconie is known for its large selection of blue light blocking glasses, but any pair can be customized with prescription lenses for added protection. If you prefer amber lenses, which block out more readers and may help you sleep better. Each frame has fit information, such as narrow, medium, and/or wide, to help you choose the right readers and frames. Recconie is all about making prescription glasses with stylish frames affordable. While there are no designer names among the options, there are hundreds of designer-inspired frames in a variety of shapes, sizes, and colors. Recconie also provides ANSI Z87.1 safety glasses with prescription single vision and progressive lenses, as well as low-bridge options. Ricconie Italy is offering modern reading glasses exclusively for mens.

Item specifics

● Brand: Ricconie Italy

● Model: Ricconie Italy ES011
● Type: Reading glasses
● Style: Modern
● Frame Color: Gold 
● Lens Material: Plastic
● Sexual orientation: Men
● Prescription Lenses Available
● Accessible in your prescription
ReadersUSA is the best reading glass seller in the modern market. They provide a variety of reading glasses as per your prescriptions. These are the best and amazing readers with accessible prescription lenses like single, bifocal or progressive prescription lenses. The most advantages of these type Recconie Italy readers are that frames are constructed by plastic material. The frames are available in gold color. The rounded frames are most suitable to mens. Most of them are searching for a new type and look. For those people who constantly searching for reading glasses with styles and look Recconie Italy ES011 would be the first option and suitable for this particular purpose. When customizing your pair, you can select single vision or bifocal/progressive lenses, then upgrade to progressive lenses. While most online glasses retailers organize frames by gender, shape, and brand, Readersusa also allows you to sort by size. For more details and collections of reading glasses visit the website at readersusa.com.