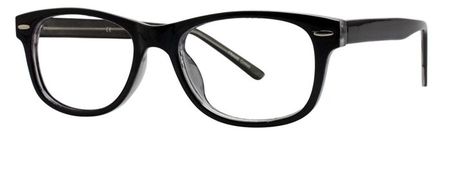 Sierra 333 - Reading Glass
---
Sierra 333 - Reading Glasses
With just enough exertion, you will experience no difficulty feeling sure about the reading glasses you choose. In particular, you need to consider the decisions you have with respect to lens material. Since the 1940s, plastic has been used to make strong, lightweight lenses. Sierra 333 reading glasses are present day reading glasses that assist to secure and keep up with clear vision with the assistance of prescription lenses. Sierra 333 readers are all the more explicitly helpful for all kinds of people. These advanced reading glasses are accessible in black tone. The material utilized in Sierra 333 reading glasses in lenses are made of plastic. It is accessible for prescription lenses and according to the lens prescription.

Item specifics
● Brand: Sierra
● Model: Sierra 333
● Type: Reading glasses
● Style: Modern
● Frame Color: Black
● Lens Material: Plastic
● Sexual orientation: Unisex
● Prescription Lenses Available
● Accessible in your prescription
Reading glasses are available in both prescription and non-prescription glasses. Reading glasses are open in both prescription and non-prescription glasses. Prescription readers from ReadersUSA are offered uniquely with the quality and detail you have come to appreciate with our reading glasses. In case getting extraordinary quality lenses in your readers is essential to you, finding a prescription reading glasses store will be the best plan. Besides, the greatness while buying readers at readersusa.com. ReadersUSA is offering moderate reading glasses, understanding shades, prescription glasses, and reading glasses with reading glasses and so on. ReadersUSA offers the best reading glasses to the end clients. We offer custom reading glasses that are made using optical quality eyeglass edges and arrangement quality lens and imaginative lens decisions like blue block unfriendly to astute coatings and varieties. You get reading glasses that look better, fit better, last longer and give better vision. The quality lens and enduring life are the critical attractions of ReadersUSA readers. It is accessible for clients to coordinate with their lens prescription.