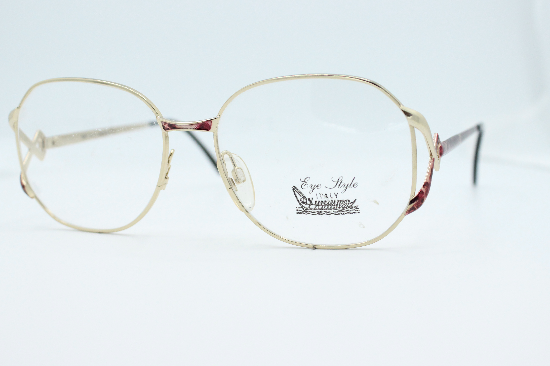 Eyestyle Italy ES007 Ladies Frame Gold Color
---
Eyestyle Italy ES007 - Reading Glasses
Eyestyle Italy is popular for selling reading glasses. Reading glasses have more popularity in the modern world and they offer more safety to eyes. Readersusa's mission is to make prescription eyewear more accessible, and with hundreds of unique frames, they have succeeded. There are classic low-profile styles as well as bold, standout frames that make a fashion statement while improving your vision. All frames include free standard prescription lenses, but you can add optional upgrades such as progressives, single or bifocal lenses that tack on anywhere depending on which ones you choose. If you're not sure what type of lenses will work best for your prescription, you can consult with a trained optician who will assess your needs and make personalized recommendations. Here, Eyestyle Italy is offering the ES007 series of reading glasses with gold color frames. Frames are manufactured with plastic materials and they give a long life of durability. They are available with your eye prescription and we can help you to choose the right lens and frame as per the prescription.

Item specifics
● Brand: Eyestyle Italy
● Model: Eyestyle Italy ES007
● Type: Reading glasses
● Style: Modern
● Frame Color: Gold 
● Lens Material: Plastic
● Sexual orientation: Unisex
● Prescription Lenses Available
● Accessible in your prescription
ReadersUSA is one of the largest online prescription glasses retailers, offering hundreds of designer frames along with less expensive house brands in every frame style and color you could imagine. ReadersUSA also has an app you can use to scan your prescription through your current lenses. All lenses are made to order in-house and then put through a series of inspections to check for quality, clarity and proper alignment. The prices you see on the website's landing pages reflect basic, single-focus lenses, but you also have the option for upgrades like progressive lenses, anti-reflective coatings and transition lenses. More lens and reading glasses contact at readersusa.com.