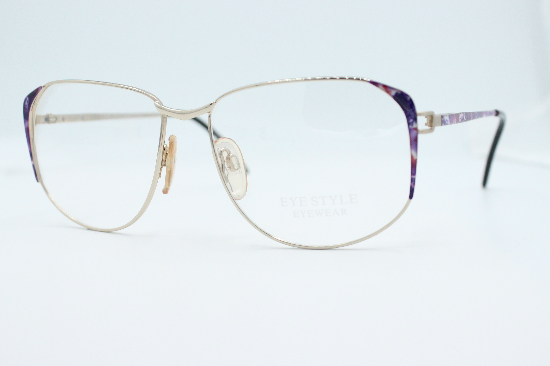 Eyestyle Italy ES003 Ladies Frame Gold Purple
---
Eyestyle Italy ES003 - Reading Glasses
Eyestyle Italy ES003 is a leading reading glass frame in the modern eyeglass market. It is mainly focusing on the color and frame style to the customers. These best reading glasses are exclusively for both men and women. It has so many features like color. The frame color is designed of gold purple color shades used in the Eyestyle Italy ES003 readers. And the round frame shape is more comfortable to use and it matches with rounded face shape people. These eyeglass styles are mostly used in the modern eyeglass market and these are selected eyeglass frames. So selected and special people who love to use these reading glasses can get readers at ReadersUSA.

Item specifics

● Brand: Eyestyle Italy
● Model: Eyestyle Italy ES003
● Type: Reading glasses
● Style: Modern
● Frame Color: Gold Purple
● Lens Material: Plastic
● Sexual orientation: Ladies
● Prescription Lenses Available
● Accessible in your prescription
Modern lenses combine numerous visual fields into a single lens without a distinct border separating the fields. Due to the regular changes made by the energy in the lenses from the route to the intermediary, you are provided full reading energy and have more energy available to you! Because of this particular characteristic, modern glasses are referred to as "trifocals" or "no-lined readers." They are well-equipped to give your eyes the necessary care in the finest way possible. Reading glasses are the main eyeglasses for many needs and convenience. Each reader is different from one another. You might prefer smaller, more traditional reading glasses, bifocal readers, progressive reading glasses and single vision readers. You could even keep a pair of reading glasses on hand to change your appearance whenever the mood strikes you. If you're undecided about which glasses to buy, get an honest opinion in person or via texted selfies from a friend or loved one about whether or not the pairs you're considering are flattering. Purchase reading glasses at readersusa.com.