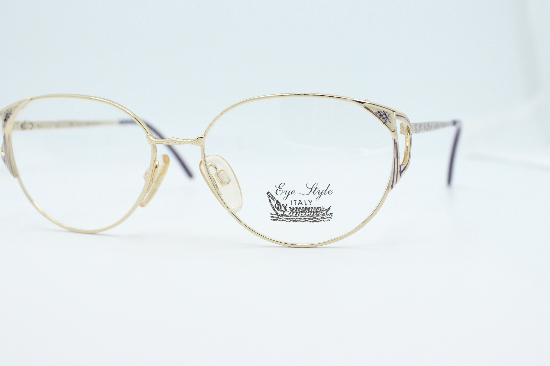 Eyestyle Italy ES001 Ladies Frame Gold Tortoise
---
Eyestyle Italy ES001 - Reading Glasses
Eyestyle Italy is one of the top manufacturers of reading glasses and it is available for both men & women. Modern eyewear includes the Eyestyle Italy ES001 readers and these reading glasses have a nice appearance with an excellent look and feel. These kinds of eyeglass frames are made of plastic material and they come in gold tortoise color. This shade provides the frame a fashionable appearance. These readers are mainly used by women. It comes in the appropriate color, pattern, shade, and size, among other options. You can get Eyestyle Italy ES001 reading glasses from selected eyewear stores in the market according to your preferences and requirements. They are the best glasses available at readersusa.com. Gaining clarity is beneficial in many ways. These kinds of reading glasses are useful for any type of lenses such as single vision lenses, bifocal lenses or progressive lenses etc. Moreover, both ladies and gents enjoy using these Eyestyle Italy reading glasses.

Item specifics
● Brand: Eyestyle Italy
● Model: Eyestyle Italy ES001
● Type: Reading glasses
● Style: Modern
● Frame Color: Gold Tortoise 
● Lens Material: Plastic
● Sexual orientation: Ladies
● Prescription Lenses Available
● Accessible in your prescription
Readersusa is the leading eyeglass seller in the US offering Eyestyle Italy ES001 reading glasses for all types of people. The most significant retailer of reading glasses on the planet is ReadersUSA.com. We offer the best selection of specialized readers, reading sunglasses, and eyewear accessories for men and women, regardless of your style being traditional, wacky, retro, loud, colorful, trendy, or subtly bookish. There aren't many variations of styles, hues, or shapes available anywhere. At readersusa.com. ReadersUSA sells bi-focal readers, single vision readers, and progressive reading glasses, making it the largest online seller of reading glasses in the modern eyewear industry. Visit the Readers USA eyewear location. On the website readersusa.com, you can choose a pair of eyewear and reading glasses. as per your convenience and price. There are more possibilities for high-quality glasses.