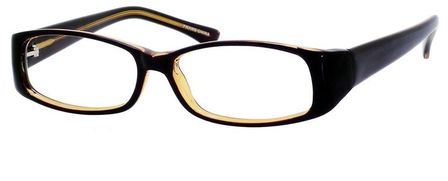 Attitude 19 - Reading Glass
Only few left..!
Choose Power
---
Attitude 19 - Reading Glasses
Attitude 19 reading glasses are the best reading glasses. The frames are constructed of plastic materials. They are available in brain color. This black acetate frame sets new standards for both aesthetically pleasing and functional eyeglasses. Don't pass up the deep-cut nose bridge, exquisite gold temple arms, and classic cat eye lenses of this design. Multifocal progressive lenses from ReadersUSA have high optical quality, are anti-reflective, scratch-resistant, and UV-protective. They are composed of metal, comparing this computer lens to others. These are the best type of eyeglasses from ReadersUSA. The main features in these types of reading glasses are available with your prescription lenses. They are more comfortable with using any type lenses like single, bifocal, trifocal or progressive types of lenses. The brown color frames give the frames more look and fashionable. They are smarter to use and a more convenient type of reading glasses.

Item specifics

● Brand: Attitude

● Model: Attitude 19

● Type: Reading glasses

● Style: Modern

● Frame Color: Brown

● Lens Material: Metal

● Sexual orientation: Unisex

● Prescription Lenses Available

● Accessible in your prescription

Attitude 19 lenses are clear and devoid of color distortion are the lenses. The lens materials provide blue light protection. Multifocal readers are the most effective for multi-tasking for people whose distance vision is still 20/20. For viewing objects close up, like the screen of a smartphone, the bottom of the lens has the highest magnification. The lens's power to allow you to gaze at a computer is lessened at the middle of the lens. You may drive or perform any other job without putting on or taking off your reading glasses because the upper portion of the lens has zero magnification. No dizziness, quick adaptation. For more types of reading glasses are available at readersusa and you can choose the right type of readers with the right type of prescription at readersusa.com.